| | |
| --- | --- |
| Rev. Kenny Bowen | Interim Pastor |
Bio coming soon!
For Pastoral Services/Care, please contact me at kabcalifornia@hotmail.com . Or leave a message at All Saints Lutheran Church office at 818-767-7260
| | |
| --- | --- |
| Betsi Freeman | Office Administrator |
Betsi hails from rural Illinois, where she grew up studying music and attending church. She graduated from Wheaton College in 2004 with a B.A. in Collaborative Fine Arts and a certificate from the Los Angeles Film Studies Center. She worked as an administrator in film production, creative management and development offices before earning her master's degree in journalism at the University of Illinois Urbana-Champaign. In addition to serving the congregation of All Saints in the office, she also serves as a musician and facilitates Ultimate Journey healing groups.
| | |
| --- | --- |
| OPEN POSITION | Interim Music Director |
Accepting applications for Music Director!
If interested contact the church office – 818-767-7260 or e-mail aslc8040@aol.com.
| | |
| --- | --- |
| Dana Ahern | Learning Center Director |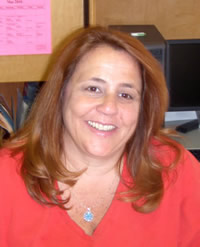 Dana has been working at All Saints Learning Center since August 1991. She started off teaching our two- and three-year-old class. She became the Assistant Director in 1997, and started teaching the Pre-K class at that time. Dana has been quoted as saying, "Each year I learn something new from my students and that is such a blessing." Dana earned her Teaching Certificates at Valley College. Dana is a long-time resident of Burbank, and has two children. Both of her children attended the Learning Center. The Learning Center operates Monday through Friday from 6:30AM to 6:00 PM . For information on enrollment call 818-767-6144 during our hours of operation.